VISIONARY MEDIUM: Psychoanalysis and the Magic of Cinema
October 14-16, 2022 | Husets Biograf, Copenhagen
The third Psychoanalysis, Art & the Occult conference focuses on cinema as a gateway into and out of the human mind, in all its complexity. No modern medium enchants quite as powerfully as that of the moving image. As film developed into an art form parallel to the emergence of both psychoanalysis and the late 19th century renaissance of the occult, its presence was rapidly imbued with a genuinely visionary power that continues to spellbind to this day. This event shines the light on a psychological screen filled with innovations, ideas, prisms and mirrors, revealing ever more to us about the intimate, intricate relationship between psychoanalysis, art and the occult.
In 1895, the same year Sigmund Freud published Studies on Hysteria with Josef Breuer, the Lumière brothers presented the first projected moving pictures to a paying audience and practicing occultist William Butler Yeats published his very first collection of poetry. As Freud continued developing his theories, the film industry established itself, with experimental film-making evolving alongside conventional cinema from the beginning. The early films of Georges Méliès, Hans Richter and Fritz Lang influenced generations of filmmakers, including Jonas Mekas, Luis Buñuel, Harry Smith, Ingmar Bergman, Robert Frank, Kenneth Anger, Antony Balch, Derek Jarman, Alejandro Jodorowsky, Peter Greenaway, John Waters, Darren Aronofsky, Anna Biller and Lars von Trier.
When a filmmaker is a true artist, their vision and own unconscious processes are projected and worked through via the medium of film. The magic lantern's cinematic spells are timeless expressions of the human condition – existing outside trends, discourses and even the larger Zeitgeists of the times – yet resonating throughout. As Freudian cinephile Mary Wild relays in her work, films are projective surfaces engaging similar mechanisms as the classic projective tests of psychoanalysts, such as the Rorschach Inkblot Test. In the chamber of the cinema, films are projected onto screens while audience members project their own internal worlds onto the films, identifying with the characters and enacting the drama being played out. Nowadays screens are ubiquitous in our everyday lives, the interactive screens of computers and phones providing countless opportunities for individuals to project themselves into the digital realm in a multitude of ways never before imagined.
The Psychoanalysis, Art & the Occult series of events, curated by Dr. Vanessa Sinclair and Carl Abrahamsson, is dedicated to exploring the intersections and integration of psychoanalytic theory, the creative arts, occult practices and folk magic traditions. By inviting psychoanalysts, philosophers, artists, writers, filmmakers and magical practitioners from a variety of theoretical orientations and worldviews to discuss their work, personal experiences and areas of interest with one another, dialogue is opened up between practitioners in fields of study that traditionally rarely engage with one another, though often operate in similar and complementary ways.
Topics may range from themes of the double, mirroring, projection, programming, propaganda and poetry to psychoanalysis on film, the history of cinema, celluloid tangibility, home movies, horror, underground cinema, spirit photography, the scopic drive, the Uncanny, Cinema of Transgression, Film as a Subversive Art (a la Amos Vogel), social media, TikTok, artificial intelligence and the digital realm to deep dives into particular auteur filmmakers, photographers or artists, such as Diane Arbus, Joel-Peter Witkin, Francis Bacon, William Mortensen, Werner Herzog or Russ Meyer. 
Please send inquiries and proposals for presentations to: sinclairvanessa [AT] gmail [DOT] com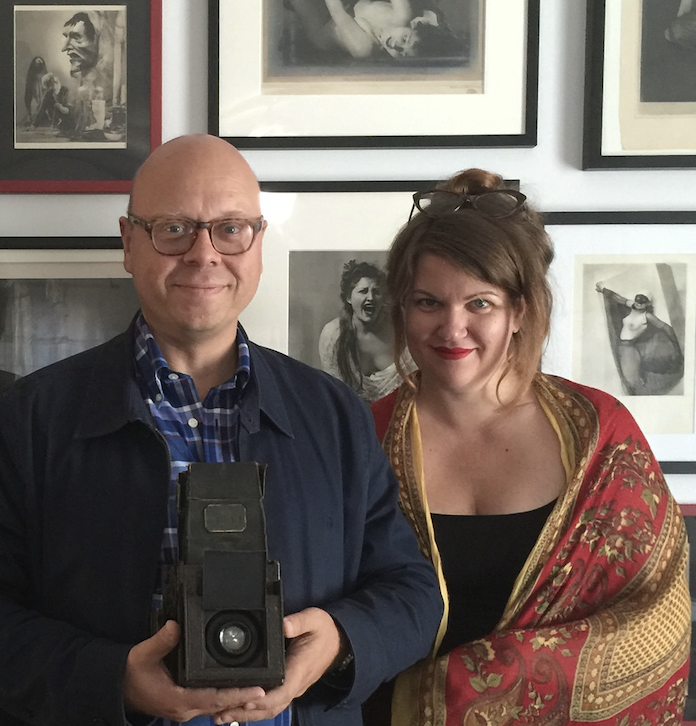 Image: Carl Abrahamsson and Vanessa Sinclair with William Mortensen's camera and work, care of Stephen Romano Gallery, NYC